If self-cooking is not at all part of your vacation plans, this is not a reason to refuse economical tourism. There is always an opportunity to eat inexpensively in Istanbul. For example, local street food.
Such a nutrition system, of course, does not always justify the theory of a healthy lifestyle, but "starving a worm" before a full meal is quite suitable.
So, what are the street stalls of Istanbul rich in?
Balyk ekmek
In fact, it is a flatbread with fish and fresh herbs. The delicacy is prepared right on the fishing boats, near the Galata Bridge. The fish sandwich has become, in a way, the visiting card of the city on the Bosphorus, every tourist strives to feast on it.
There are many variations of balyk-ekmek: the final result of the dish depends on the types of bread, spices and salad used. Only the main ingredient remains unchanged – fish. The average cost of such a snack is 13-15 lire.
The most delicious fish in bread is prepared by Emin balykchi, near the Karakoy pier. Among Russian-speaking residents, the famous chef is known as Super Mario. You can easily find it if you walk along the promenade towards the Karaköy Balık Pazarı market.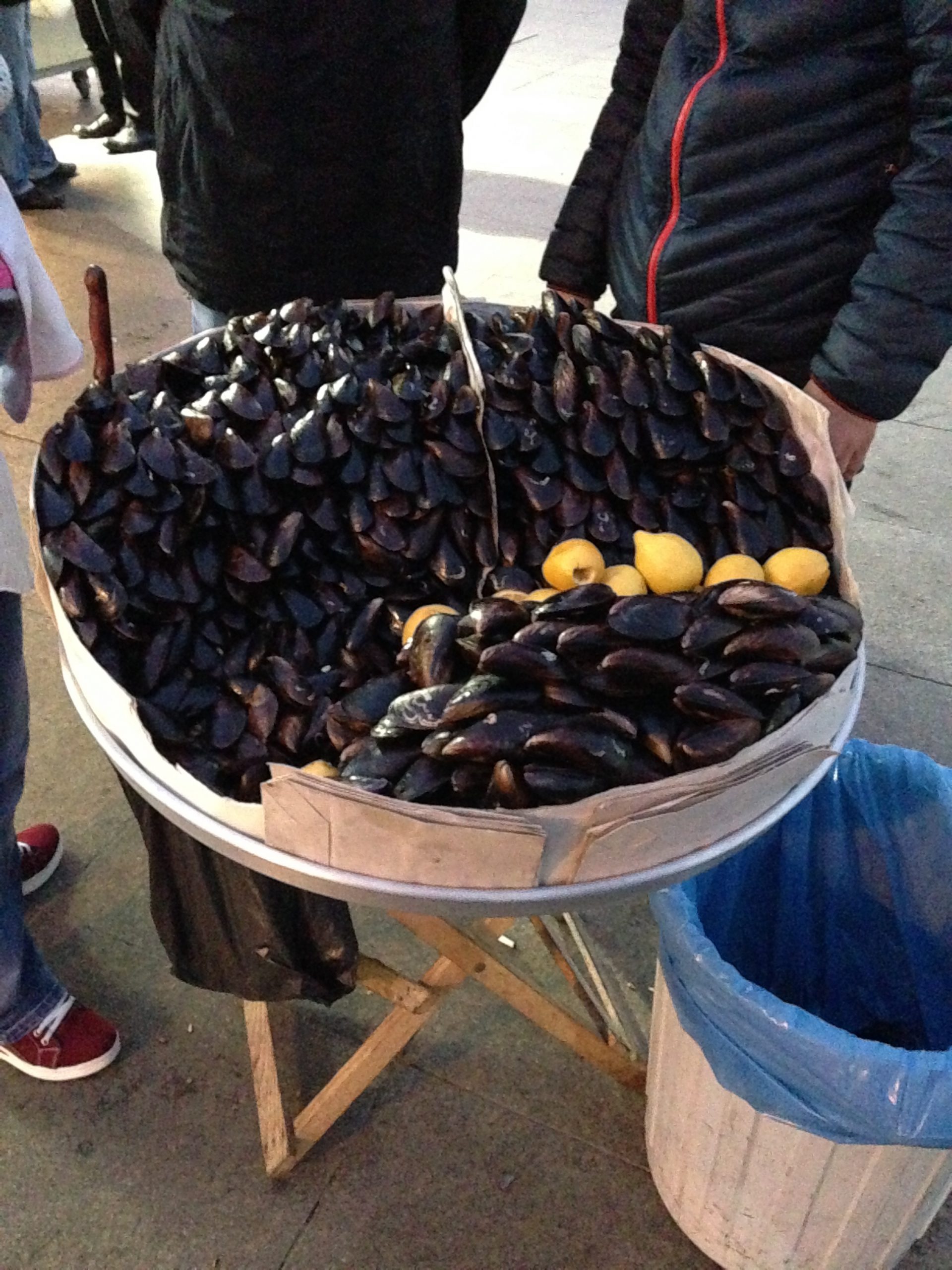 Stuffed mussels, grilled mackerel, shrimps
Street food in Istanbul is not limited to fish cakes. Of the seafood delicacies, grilled mackerel and fried shrimp are popular. The largest selection of these goodies is in floating cafe-boats, on the city's embankments, but they are also found at traders with street carts.
And if you decide to try mussels, keep in mind that here they are stuffed with rice and spices. You will have to pay about 1-2 liras for a hearty delicacy (Turkish mussels or "midye dolma"). Do not forget to only warn the seller about how many servings you will eat. Otherwise, he will open the whole catch for you.
Kokorech
This is the pride of Turkish fast food. Just imagine how tender giblets of young lambs wrapped in mutton intestines are melting over the coals. What, lost your appetite? Do not rush to give up new experiences, it is likely that you will want supplements.
The finished kokorech is finely chopped, tomatoes, peppers and other spices are added and placed in a crispy bun. You can also drink ayran, it will turn out tasty, nutritious and quite economical. For kokorech on the streets of Istanbul, you will be asked to pay 5-8 liras.
Kumpir
Street food in Istanbul is not necessarily food experiments. It is quite possible to find the usual food for the average European in local street foods. For example, kumpir is a baked potato with various fillings.
Very large potato tubers are used for this dish. It is baked together with the peel in foil, then cut and stuffed with grated cheese, olives or pickled cucumbers, sausages or pieces of juicy meat, generously flavoring kumpir with spicy sauce or mayonnaise.
In the Ortakoy district, not far from the mosque of the same name, there is a whole street lined with dozens of baked potato vendors. The locals have nicknamed this place: kumpira street. To enjoy a hearty meal, you will have to pay about 12 lira.
Misir and roasted chestnuts
You can't call it a full meal, but as a light snack, during short runs between museums, it will do.
You don't have to search for these simple dishes. Street vendors with carts scattered throughout the city like peas sell misir (fried corn) and chestnuts almost all year round. For an ear of corn you will be asked about 2 lire. Chestnuts are sold by weight, for 100 grams you will have to pay from 5 to 7 lire.
Such a snack can satisfy the feeling of hunger for a long time. But it is better to stop for a minute and finish the meal with a cup of tea or pomegranate juice. The latter costs about 2 lira.
Simit
Sesame bagel is a traditional Turkish pastry that is sold literally on every corner. And on the embankment, simitchi (bagel sellers) literally stand one after another, it's hard not to notice them.
There is nothing special about these bagels, but for a quick snack, along with ayran or fragrant hot tea, it is quite suitable.
The cost of a sim very much depends on the location of the point of sale. The closer to the places of congestion of tourists, the more expensive. The average price is from 1 lira.