Food and drink in Istanbul
Most people in Turkey eat out during the day. The best restaurants in the country are located in Istanbul, among them several specializing in ancient Ottoman cuisine. There are also a number of international top-class restaurants, and thanks to the long coastline, numerous catering establishments specialize in the preparation of fish. A variety of snacks are sold everywhere: on street stalls – kebabs, in small pastry shops – sweets. There are many fast food cafes where both locals and tourists eat.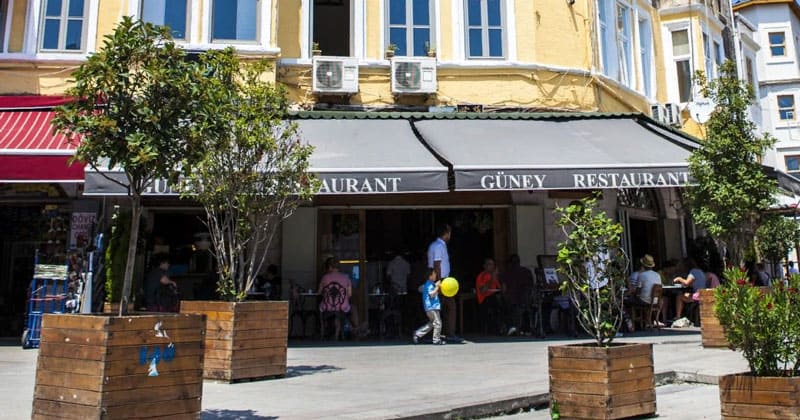 Canteens for workers, here called "locants", open early and are open from 6.00 to 16.00. Other cafes are usually open from 9.00-21.00. Restaurants are open from lunch, last orders are accepted until 22.00-23.00, and the most popular places with live music are open until the morning. In business districts, restaurants operate in much the same way as local shops and are closed on Sundays. Credit cards are not accepted only in the smallest restaurants.
Inexpensive food in a cafe in Istanbul
Until recently, Istanbul was dominated by teahouses serving only tea, nargile and raki. Today, the city's catering establishments are very diverse and are similar to similar establishments in any European city. There are traditional worker canteens, student pubs, take-out cafeterias, and sophisticated continental cafes with popular Turkish coffee and imported alcoholic beverages. Inexpensive establishments include buffets such as "locant" (everything that can be bought is displayed here in a transparent window), "pide" and "kebab-salon", which sell cheap meats and flour products.
Throughout the city, teenagers offer dry pretzels with salt. Fishermen in Kadikoy, Karakoy and Eminonu sell questionable fish sandwiches straight from their boats, and in more prosperous areas, they sell mouth-watering hot triangles of lamb giblets from numerous stands and carts. Prices depend on the area and location of the outlet, and range from a few cents for a "borek" (pie with cheese, spinach or meat) and one or two dollars for a takeaway kebab to five or more dollars for coffee and cake in an expensive cafe.
Sultanahmet
1). Ahirkapi Balikcisi Bakery – A tiny berek bakery on one of the side streets near Kennedy Cad. Traditional Turkish pies with meat, cheese and spinach, which can serve as a great snack or even a good lunch. Location: Ahirkapi Sok, 64, Cankurtaran;
2). Restaurant "Buhara 93" – A wide selection of traditional Turkish dishes. Kebabs, salads and beer will cost you 5-10 Turkish liras here. During the day, this cafe is always crowded with locals. Location: Sifa Hamami Sok, 12;
3). Cafe Aga Medresesi – Quiet cafe next to the Inter Youth Hostel, located in the courtyard of a beautifully restored former madrasah, which now rents out rooms and sells handicrafts. A good place to have a cheap breakfast or refresh yourself with a cool drink after a tour of Hagia Sophia. Location: Caferiye Sok, Sogukkuyu Cikmazi;
four). Cigdem Bakery – Offering a good selection of Turkish and other sweets and pastries for over forty years. Located directly opposite the tourist office. Location: Divan Yolu Cad, 62;
5). Doy Doy Café – The backpacker's favorite non-alcoholic cafe, located at the far end of the Hippodrome near Kucukayasofia Kad. It has earned a good reputation for cheap and tasty kebabs and pide. The dining room is located on the fourth floor. She also owns a rooftop terrace with superb views of the bay and the nighttime light show over the Blue Mosque. The cafe has surprisingly large portions. This is especially true for the meze served at lunchtime. Location: Sifa Hamami Sok, 13;
6). Karadeniz Pide Salonu – Cheap, unremarkable eatery with plastic tables and disposable tableware. However, her food – especially the excellent kiremit kebab (lamb cooked in earthenware) – is in high demand among the locals. Location: Divan Yolu Cad, Bicki Yurdu Sok, 1;
7). Cafe Konyali – Open during the opening hours of the Topkapı Palace museums. Coffee, cakes, complex lunches for excursion groups of tourists. Strange prices (there are other places in the palace where you can restore your strength) are explained by the presence of a terrace overlooking the palace gardens, which offers a magnificent view of the Bosphorus. Closed on Tuesdays. Location: Mecidiye Pavilion, Topkapi Palace;
eight). Café Sultan – Pleasant and conveniently located cafe-bar, whose tables are taken outside in summer. International cuisine for 15-20 TL per person. Lots of draft beers. Location: Divan Yolu Cad, 2;
9). "Tarihi Sultanahmet Koftecisi" – An institution specializing in "kufte" and Turkish cuisine. The average price for a dish is 5 lire. Location: Divan Yolu, 4.
Eminonu
1). Pub "Kardelen" – The establishment is located in a convenient location near the station. Going down the street, you will get to Sultanahmet to popular tourist places. A picturesque terrace entwined with ivy and a fun covered terrace awaits visitors. Beer downstairs at the bar. In the institution you can watch a football match, there is a large plasma panel. Location: Muradiye Cad, 3, Sirkeci.
2). Konyali Shop – A wonderful shop across from the train station that sells pastries and cakes. Open from 7.00. Popular with local businessmen who dine standing at tables with marble tops. Closed on Sundays. Location: Ankara Cad, 233, Sirkeci.
Beyazit
1). Restaurant "Subasi" – Located behind Nurosmaniye Jamiya right inside the main entrance to the covered bazaar. Food at affordable prices is prepared here on real sawdust and is considered the best in the area by local merchants. After 12.00-13.00 it is crowded here, so the food runs out quickly. Location: Nuruismaniye Cad, 48, Carsi Kapi.
Galata
1). Galata House Café – Housed in a former British prison, this café is famous for its coffee, homemade bereks, cakes and jams. You can dine with Turkish and Georgian dishes here, only in advance, at least two days in advance, by booking a table. Doesn't work on Mondays. Location: Galata Kuseli Sok, 61;
2). Guney Restaurant – Workers' favorite place serving sarai kebab (roasted beef stew with béchamel sauce). Worth trying to appreciate. One of the best locants in town. If you manage to find a free seat here at lunchtime, consider yourself lucky. Location: Opposite the Galata Tower.