Where to Eat Turkish Breakfast in Istanbul
Van kahvaltı – Van style breakfast
The name of this breakfast comes from the city of Van, located in the east of the country and on the banks of the river of the same name. The fact is that the locals have turned breakfast into a cult. There is even a street called "Kahvaltı Caddesi" ("Breakfast Street").
Local establishments serve dishes made from local fields and pastures. Here they prepare unique types of jams, delicious kaymak and butter, serve honey, amazing in its taste, as well as the famous Van Otlu Peynir hard cheese made from sheep's milk.
It is seasoned with herbs, which includes 25 different varieties, for example, wild mint, onion and garlic, thyme, fennel shoots, tar. After several stages of processing, it is sent for aging in a saline solution and covered with layers of earth, soaking up to 7 months.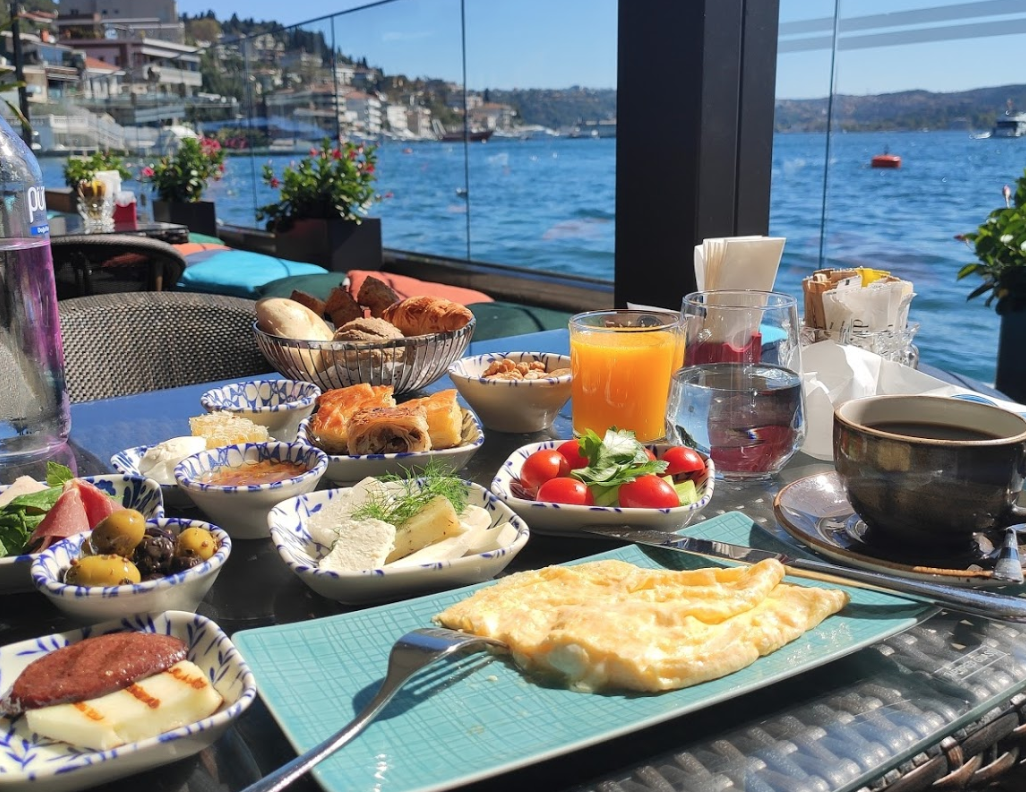 However, the product gets an unusual taste not only thanks to the old recipe, but also to pastures on the banks of the Van River, where sheep nibble on a special kind of grass, which makes their milk get the desired bouquet.
Cheese is prepared in huge quantities, and every year more than 5,000 tons of the product are sent to different parts of Turkey.
Wang-style breakfast also includes cucumbers and tomatoes seasoned with hot peppers; sauce "Kaşık" (Kasik) – a mixture of cucumbers and parsley seasoned with natural yogurt; kaimak with local honey and nuts.
I would especially like to say a few words about honey. To say that people in Turkey love him very much is to say nothing. It is added to almost all dishes, and also simply savored by dipping freshly baked bread, fruit or cheese into it. There are several dozen varieties of bee nectar, and some are incredibly rare and expensive.
The most popular species is pine (Basra), which is made by special bees that collect the secret of insects living on coniferous trees only in the Mediterranean and Aegean regions of Turkey, and nowhere else.
It is darker and more fragrant, and unlike others, it does not sugar for longer. It is with this honey that the Turks like to pour yoghurts, cheeses and other products in the morning.
The most expensive honey is called "Elven". It is mined at a depth of about 2000 meters underground near the city of Artvin in the Sarichair valley in the northeast of the country. The most interesting thing is that honey is not collected in beehives, but directly from the walls of the cave, which is why it is rich in minerals. This delicacy costs 5,000 euros per 1 kg, and it is definitely not served at the breakfast table.
Another variety that you have hardly heard of is called Crazy Honey. Bees collect nectar from rhododendrons containing graanotoxin (natural neurotoxin).
In small quantities, this narcotic sweetness causes mild euphoria, and in large quantities it can provoke hallucinations, and sometimes convulsions and loss of consciousness. This honey has been known since ancient times, when it was used as a biological weapon.
But back to the city of Van. Citizens love their breakfasts so much that families gather for them and stretch the pleasure for several hours. Perhaps this is the most plentiful morning meal, after which you will not want to eat for a very long time.
However, in order to experience all the charm of such a start to the day, it is not at all necessary to leave Istanbul, because in the former capital of the Ottoman Empire, you can also enjoy its exoticism.
Where to Eat Turkish Breakfast in Istanbul – Best Places
It is worth setting the right tone in the morning, and the upcoming day will definitely be successful. Breakfast plays an important role in this, because it is the "fuel" that gives us energy, and the better it is, the brighter colors we see the world around us.
To understand exactly how a regular breakfast differs from a Turkish one, visit a cafe or restaurant with national cuisine.
All the charm of a mixed breakfast (serpme kahvaltı) will be demonstrated by the Divan Bebek Brasserie restaurant overlooking the sea, which in 2008 was recognized as the best in Istanbul.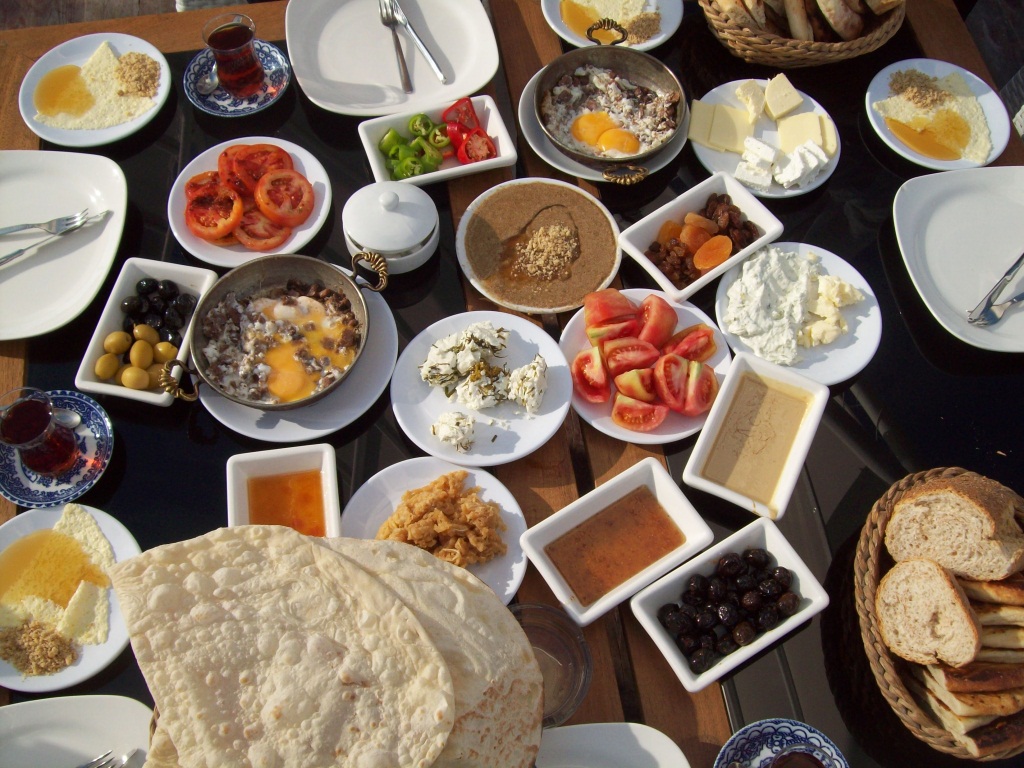 It is located on the Bebek embankment near the park of the same name in the European part of the city.
Here you can order a classic Turkish breakfast for two for 140 lira, which includes several types of cheese, cold cuts, fresh vegetable salad, olives, eggs (you can choose the cooking method), homemade jam, dried fruit, honey cream, juice and tea as much as you like. .
There is also an option kahvaltı tabağı (breakfast plate) with a small portion for one for 70 lira.
It contains: several varieties of cheese, olives, tomatoes and cucumbers, seasonal homemade jam, honey cream, pastries and an unlimited amount of tea.