The best restaurants in Istanbul
The tourist center of Turkey impresses its guests not only with fascinating sightseeing routes, but also with real oriental hospitality. In the city you will find more than 20 thousand establishments with delicacies from various countries. Delicious national dishes, dishes prepared according to European, Japanese and Korean recipes – here every gourmet will find a place to his taste. And about oriental sweets there are legends all over the world.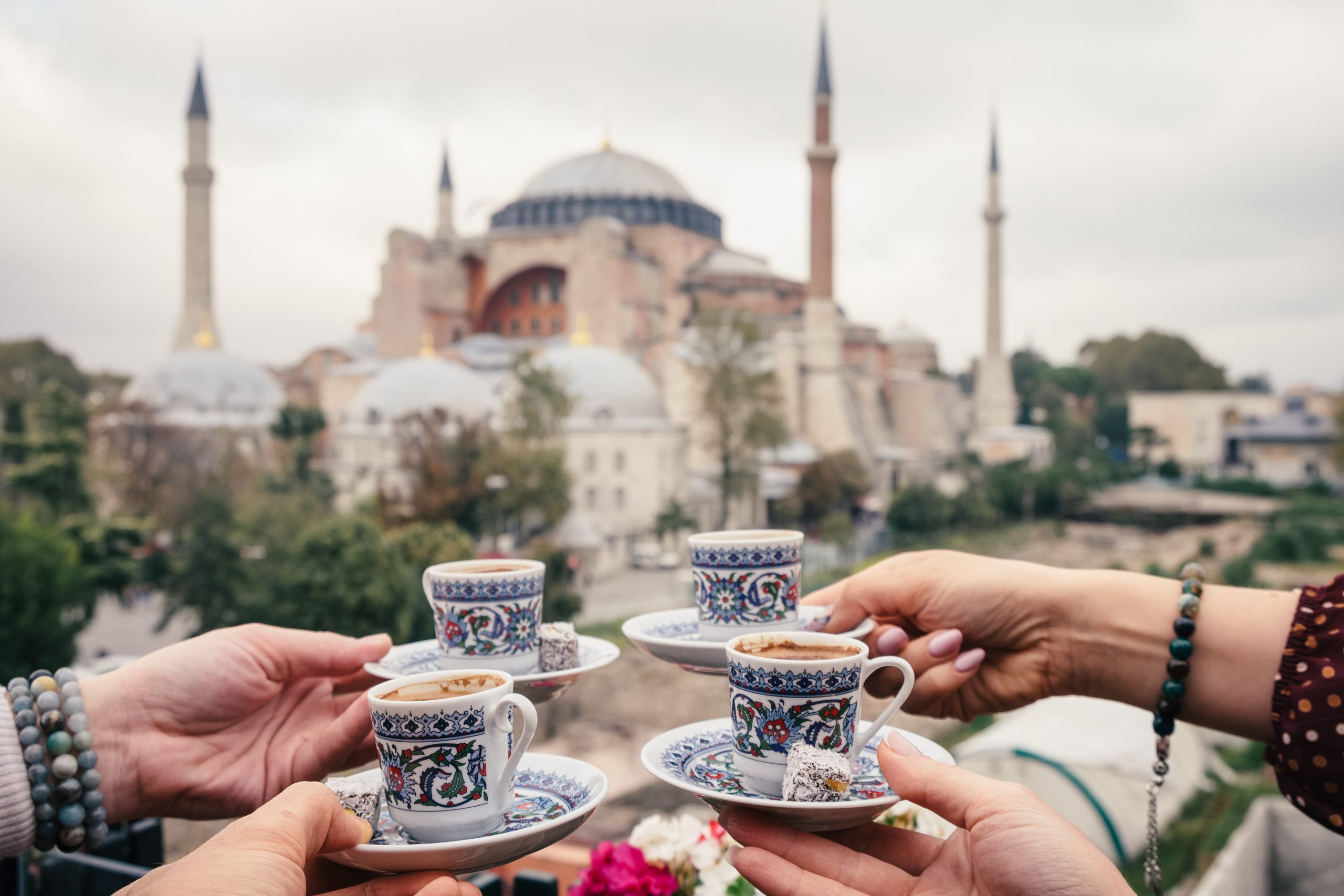 Where are the best panoramic restaurants? What places are considered the most expensive? What is worth trying from national delicacies in the first place? You will learn about all this in our article.
And in order not to get lost in the variety of restaurants and cafes, we suggest going on a gastronomic journey with a Russian-speaking guide. Dinner Bosphorus cruise, cozy cafes and many interesting stories about Istanbul's culinary traditions await you during the tours.
Features of Turkish cuisine
Due to its favorable location between Europe and Asia, Turkish cuisine harmoniously combines Caucasian, European and Arabic recipes. The most popular dishes are meat and fish dishes. This is lamb kebab, which is cooked on an open fire, as well as manti – a hearty snack with minced meat, spices and sauce. Shish kebab, called doner, and kyufte – meatballs with herbs and spices are very popular among tourists. From seafood, you can try a variety of delicacies: fish in paper, smoked salmon, baked squid, octopus salads.
Turkish desserts deserve special attention. We recommend that you start your acquaintance with them with baklava, masterfully prepared according to old recipes. Another world-famous sweet is Turkish delight, which is made from molasses, juice, honey, nuts, and fruits.
As a snack in Turkey, it is customary to serve pastries. The most delicious are simit bagels with sesame seeds, fluffy pogacha buns with various fillings and pita flat cakes seasoned with spices, cottage cheese or salad.
Top restaurants in Istanbul overlooking the Bosphorus
The decoration of the capital of Turkey are establishments with panoramic views. Most of them are located on the coasts, hotel roofs and cliffs, right above the Bosphorus. If you are interested in places with the most beautiful views, delicious cuisine and loyal prices, then be sure to take a look at the following list:
Imbat
The institution is located on the 7th floor of the Orient Express Hotel, thanks to which its windows offer a stunning panorama of the Sea of ​​Marmara, the Bosphorus, bridges, palaces and other attractions of Istanbul. In the warm season, it is better to book a table on the outdoor terrace.
Most of the dishes on the menu are Mediterranean cuisine, for vegetarians there is a separate list of delicacies. Eggplant appetizers and soups are considered the most delicious.
Prices are quite low compared to other restaurants of this level. A hearty dinner for two with alcohol will cost 50-65 euros.
Poseidon
This is one of the best fish restaurants in the city, located on the coast of the Bosphorus. For visitors wishing to enjoy the beauty of seascapes, a spacious terrace is provided here. Poseidon's menu abounds with national delicacies and a variety of fish dishes.
Guests are given the opportunity to independently choose the products from which dinner or lunch will be prepared. Assorted seafood, sea bass fish, bonito, red mullet and fried octopus are considered the most delicious dish.
On average, dinner at Poseidon will cost you 60-80 euros.
Changa
Changa is known for bringing together different culinary traditions on the menu, and also adding fusion dishes to the list of delicacies.
You can enjoy the fresh sea air and picturesque views by booking a table on the summer terrace. Although seeing the number of dishes on the menu, you can easily forget about the surrounding beauty. Kebabs with French sauce, fish meatballs and other Mediterranean delicacies are prepared here only from natural products.
Changa also features a large selection of wines and a stylish interior decorated in the style of the 60s and 70s.
5.Kat
Thanks to the exquisite design and luxurious culinary platter, 5.Kat has become a famous holiday destination for both locals and visitors to the city. Its design resembles a movie set or a luxury hotel room. The halls are decorated with antique chandeliers, velvet curtains, flowerpots, fine wood furniture and other decorative elements.
The menu features a wide range of European and African dishes. It is interesting that some culinary masterpieces are prepared here by the hostess of the establishment – actress Yasemina Alkaya.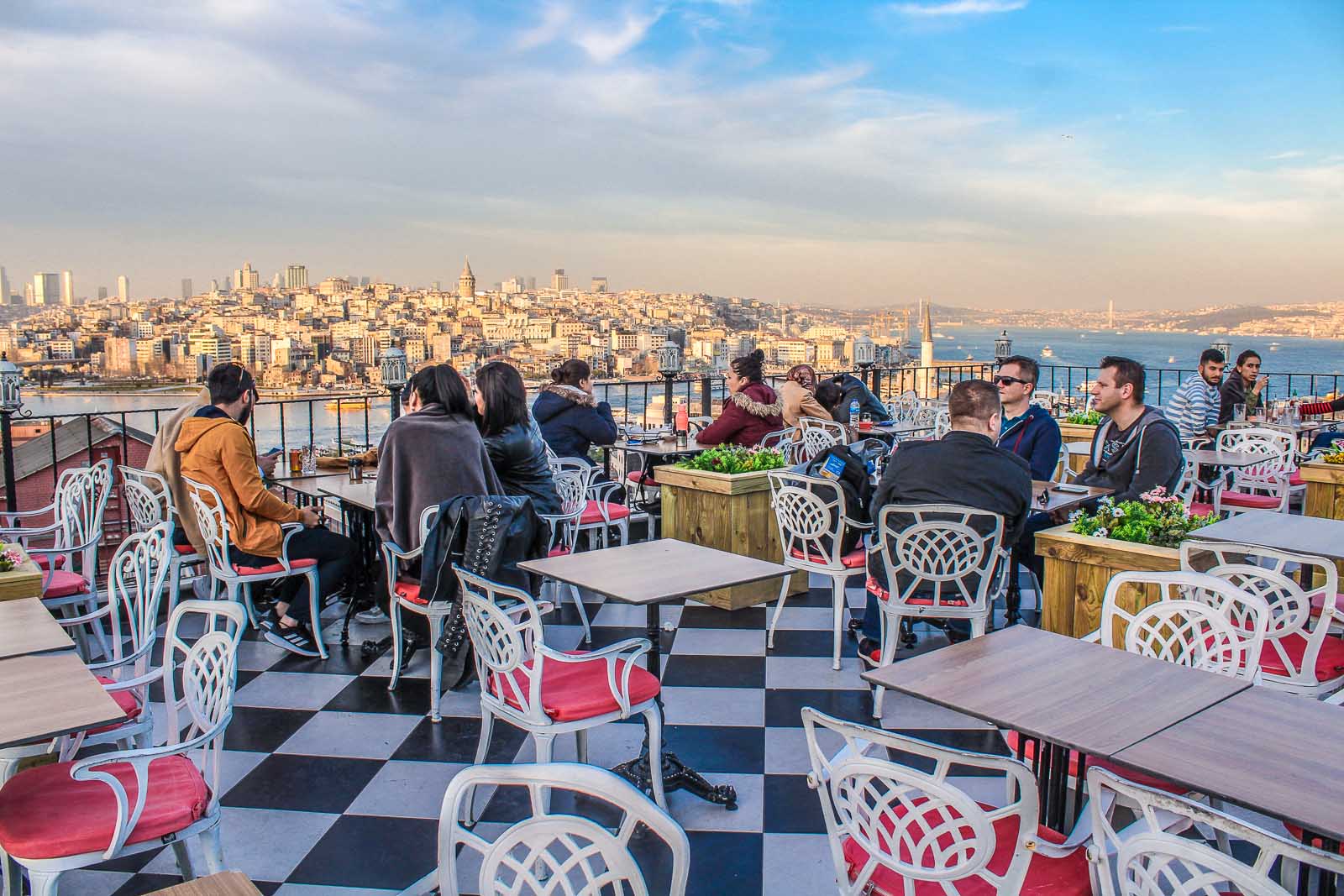 360 Istanbul
Since 2004, 360 Istanbul has been recognized as one of the best restaurants in the city. The establishment is located on the 8th floor, from where you will enjoy views of the Bosphorus, St. Anthony's Cathedral and the Golden Horn.
Its menu impresses with a variety of dishes of Mediterranean, Japanese, Turkish and author's cuisine. Mixed dishes are considered the most unusual, for example, spaghetti with lobster, shrimp in Thai, seafood in Italian sauce.
The prices impress with loyalty, for only $20 you can order a hearty signature dish. Please note that after 8pm 360 Istanbul turns into a nightclub with live entertainment.
Zoe Teras Lounge
One of the popular panoramic restaurants in Istanbul. It occupies several floors and has a cozy terrace overlooking the sea, the Blue Mosque and Hagia Sophia.
From 9 am to 11 am, the establishment invites visitors to taste traditional Turkish cuisine. And at midnight the disco starts here. From Friday to Saturday, Zoe Teras Lounge hosts famous DJs and show programs. And from 5 to 8 in the morning you can order any cocktail at a discount.
The cost of food is considered average.
In the most popular restaurants, especially during the peak tourist season, it is not so easy to find a free table. We recommend booking places in the institution you like in advance. In some restaurants, registration is carried out 1-2 weeks in advance.